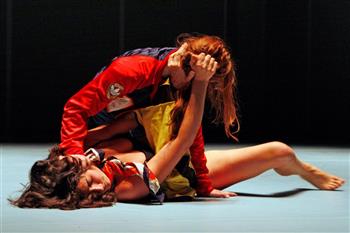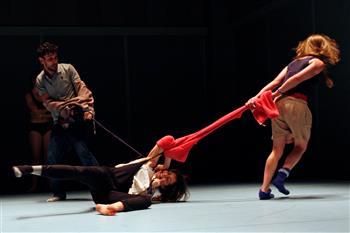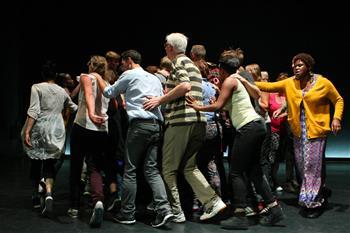 Schwalbe Cheats - Scwalbe Theatre Group
In Schwalbe Cheats the eight performers lose themselves in a game, moral boundaries gradually fading. Who are we, when we´re driven into a corner? Or when we sense the other is weaker? Or when the other stops playing by the rules? You might try to bluff it out saying ´it´s only a game´, but at that point it´s already too late to return to reality. What starts as a children´s game, gradually slips into a gladiators´ battle.
Schwalbe are true masters in distilling their concerns and visions into an absolute simplicity of form, leaving the audience with ample headroom to fill in the multiple layers of their performances. Schwalbe is a theatre collective, comprised of seven performers and creators. Their work is physical by nature. Every performance is born from the body. Physicality is pushed to the limits and displays itself to be fickle and unpredictable in extreme circumstances. concept and play
Christina Flick, Melih Gençboyaci, Marie Groothof, Hilde Labadie, Floor van Leeuwen, Kimmy Ligtvoet, Ariadna Rubio Lleó, Daan Simons
design and technique
Joost Giesken, Dave Staring
final directon
Tim Etchells
dramaturgie
Anoek Nuyens
costume
Sarah Hakkenberg
production
Joost Allema
photography
Pepijn Lutgerink
production
Schwalbe Theater Group
coproduction
Productiehuis Rotterdam, NXTSTP - Rotterdamse Schouwburg (De Keuze), Baltoscandal (EST), Alkantara Festival (PRT) - OMSK
special thanks to
SNS REAAL fonds and Prins Bernhard Cultuurfonds
@ Moda Sahnesi
PERFORMANCE Schwalbe Cheats - 23, 24 March 2015 - 20u30
@ Tiyatro D22
WORKSHOP - Schwalbe is looking for crowds - 22 March 2015 - 16u00 until 18u30
@ Mimar Sinan University
WORKSHOP - Schwalbe is looking for crowds - 20 March 2015 - 15u00 until 17u00
ACTION Schwalbe is looking for crowds - 24 March 2015 - 13u00
Theatre collective Schwalbe are Christina Flick, Melih Gençboyaci, Marie Groothof, Ariadna Rubio Lléo, Floor van Leeuwen, Kimmy Ligtvoet, Daan Simons
Theatre collective Schwalbe makes physical performances in which physicality is taken to the extreme, resulting in energetic, raw and visually expressive theatre. The collective, consisting of seven actors/theatre makers, all graduated in mime at The Theatre School of Amsterdam in 2008.
* SCHWALBE ZOEKT MASSA / SCHWALBE IS LOOKING FOR CROWDS
'Suddenly, people are everywhere, with more joining all the time, as if the streets only lead in one direction. Most don't know what has happened, but they hurry anyway to the place where most of the others are.' - from 'Crowds and Power' by Elias Canetti.
There are more of us than you tonight, we've expanded our collective with one hundred people to form a crowd.
<
This performance displays the dilemas that lurk within people. On one hand, the euphoria that an individual can feel as he is absorbed into the crowd: at a concert, a pilgramage, or a demonstration. On the other hand, the fear that he can feel for the uncontrollable power of the crowd. That can be destructive.That hits out in panic.That tramples, and sees an enemy in everyone and everything around him.
Concept/acting
Christina Flick, Melih Gençboyaci, Marie Groothof, Floor van Leeuwen, Kimmy Ligtvoet, Ariadna Rubio Lleó, Daan Simons
Set and technique
Joost Giesken, Dave Staring
Production
Nadin Topal
Dramaturgy
Anoek Nuyens
photography
Pepijn Lutgerink
Producer
Productiehuis Rotterdam
Coproduced by
'De Coproducers' - a collective of seven Dutch Theatres (Theater Frascati, Rotterdamse Schouwburg, Grand Theatre, Theater Kikker, De Toneelschuur, Het Spui Theater en de Verkadefabriek)
Thanks to
SNS Reaal Fonds, Prins Bernhard Cultuurfonds, Gemeente Rotterdam
16/17 January 2014 - KAAITHEATER, Brussels, Belgium and 22/23 January 2014 - CAMPO, Gent, Belgium
(
www.youtube.com
)
Schwalbe zoekt massa / Schwalbe is looking for crowds
In the fourth project of Schwalbe, the ensemble drags part of its public literary on stage. The collective wants to connect with the mass, to the people on the street and wants to find out what they as a group can cause with a crowd in theatre. They wished to really meet with different people and create a community through their work.
They took their inspiration among others from the book Masse und Macht by Elias Canetti who describes different masses, the starting point of a mass, its course and end scenario. Schwalbe created a performance about meeting the other, the euphoria and energy that an individual in a crowd can experience by going into that mass, being part of a whole, the motivation to connect. And the counter side of the mass: the collective fear we can feel at the moment we are in the middle of a group of people or when we are the outsider standing in front of a mass; the destructive, the loss of the individual; the panic we can feel in a group movement.
With Schwalbe is looking for crowds Schwalbe enters with as many as about 150-200 people on stage. The viewer sees a crowd passing by as a march of civilization: passionate, brave, contagious, energetic. A composition for people. As a herd of bisons they go straight to their goal, but after some time the question arises as to where they are heading. The targeted mass turns into an aimless, capricious mass that pulls everything in its path.
"Fascinating how long such a mass movement continues to intrigue '(Parool ****)
"Layered and fascinating" (Volkskrant ***)
"You'd better experience!" (Theater Newspaper ****)
More information and trailer:
www.productiehuisrotterdam.nl